Happy Friday!!!
Did this week seem really long to anyone? The normally frantic pace at work has slowed a bit and I'm just getting used to it. I'm sure that won't last too long though!
The weather here the past 2 days has been hot and humid. I finally turned the AC on this morning, even though DH complained. Too bad! Anything over 75 and I'm ready for the AC. I'd rather freeze and cover up with my Snuggie than to be hot.
Anyways, I thought I would share latest finds and items I am coveting: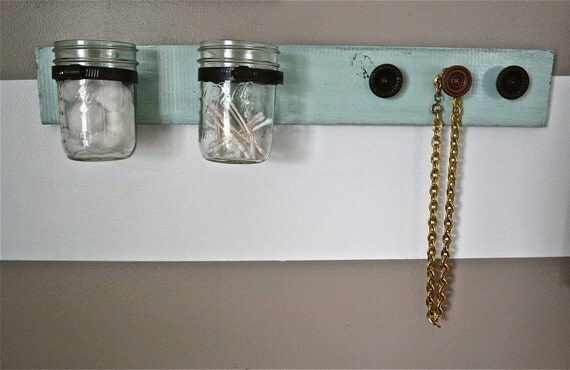 Mason Jar Organizer with Jewelry Holder. This adorable little piece comes from the lovely Liz Marie who write the Liz Marie Blog. I stumbled onto her blog when searching about Annie Sloan Chalk Paint. She has a great knack for putting things together, refinishing old furniture to give it new life. and I am in love with all of the colors she chooses! Plus, she's a fellow lover of Mason jars like me. Liz Marie recently opened up her own Etsy shop called Liz Marie Shop. And this little beauty is calling to me. It would match my 'boudoir' perfectly and I could use the hooks to hang jewelry or belts. And I could put fresh flowers in the jars! She's in the process of getting more items onto her Etsy site, so if you something you like and want it customized, contact her!
Speaking of Mason jars, I came across this pic (not mine, linked to site if you click on pic) on Pinterest and had to know more. Lo and behold this fellow blogger is also from Pittsburgh!!! Her name is Sophie and she writes the Forge, great blog about fashion, vintage, DIY, etc. The more I read her blog, the more I love her. So when I saw this post on how to make these jar lights, I had to pass her idea onto you guys. You can find the entire post here.
Sometimes you just want something different, that no one else has. I always seem to be in the latter group. Which is why I love shopping for vintage and online. When doing a search or reading blogs for ideas, there are always sites and finds that you randomly come across and fall in love with. Dungaree Dolly's is one of those sites. I honestly cannot remember where I first encountered her site. Maybe it was Lisa Freemont Street and her You Tube page? Anyways—I went to the site and instantly fell in love with all of the adorable bags. This was at least 2 years ago and I STILL have not ordered one for myself! I think I am just going to email DH the site and tell him this is what I want for my birthday next month. The bag in the pic above is called the Baroness bag. The best thing about these bags is that you pick the fabric it comes in! There are a ton of choices and it's hard to choose one because they are all lovely. Every review I have read on these says how sturdy and well-made they are. I'm thinking of the bag above in this fabric below. What do you think?
Her site also includes several other great bags, diaper bags, makeup bags, and even sunglass cases! I'm also eyeing the Rosie scarves. Great to keep the hair back in the summer!
I admit I'm a sucker for funky necklaces. I will scour vintage stores to find something unique and personal to me. I rarely wear bracelets (since I wear a watch on my left hand and need my right to use the mouse on my computer at work) so necklaces are my fave way to wear jewelry. This one above called the Freebird Necklace has everything I love: funky-ness, fun and feathers! Would be great under a jacket or just with a plain white T. I would wear it with everything.
I'm sure you want to enjoy your Friday so I will keep it short and sweet (like me LOL!). I don't plan on much for the weekend—maybe see the Avengers and going with my BFF to a new-to-me greenhouse to look around on Sunday.
Have a great weekend!