DH said something to me last week that surprised me. We were on our way last week to the wine dinner and were talking about clothing in general in the car. He said to me "At least you wore something from this decade instead of your retro stuff." I was a bit miffed and replied that I wear a lot of modern things where he disagreed. I thought he was rather misinformed about what exactly vintage or retro was until I gave a think of my own.

To me, vintage is really vintage. Meaning, at least 10 years old. And yes, I do have a good bit of vintage clothing that I have collected for many years and wear a lot of it. Then you have vintage reproduction, which is a direct reproduction of vintage styles. I have those as well. Then you have retro, which to me is a loose interpretation styles gone by mixed with modern elements. Again, these are just my definitions and I have no idea if they are 'right'. Just my thoughts.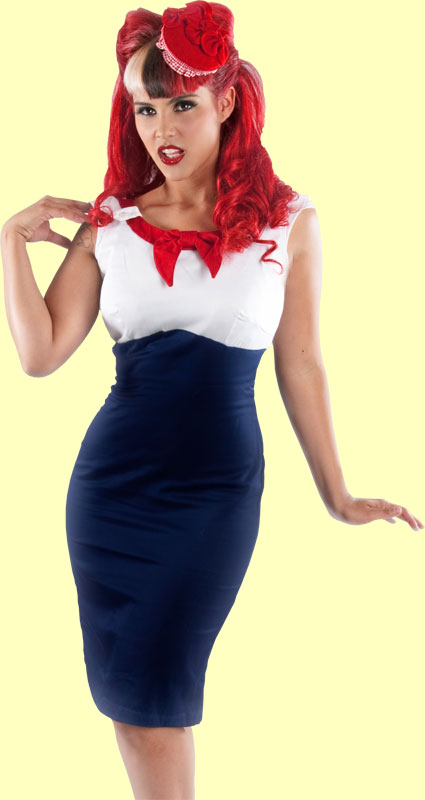 The more I thought about, the more I realized that DH was right. I do tend to go for a more vintage or retro silhouette when choosing clothes. Not only because I like the look, but they just look better on my body type. I am an hourglass and I need dresses and skirts to have a defined waist or I look like a sack of potatoes, as my grandma would say. I just look better in vintage/retro looking clothes!
But DH is not right that I wear that look all the time. There are many times when I don't wear that look and I would consider the look a classic (like a pencil skirt and a cute top) where he would classify that as 'retro'. And 'modern' clothing constantly and almost always references past decades! So I guess I resent his trying to pigeon hole me into a style!
Below is a dress I just got from the Limited. Polka dots are all over the place right now but I guess you could say the cut of the dress is vintage looking. But I wouldn't call it retro as it's very on trend at the moment. I plan on changing up the belt a bit (maybe yellow or mint green belt) and adding some funky jewelry and shoes. You like?
Those of you who know me know that I love all clothes and all types of styles, not just one! I know people and bloggers who live a true vintage lifestyle and dress and live vintage all the time. Some of them even forgo modern technology (although most do not!). (For some beautiful retro homes, please check out my fellow bloggers the Rockabilly Socialite and Welcome to Deluxeville.) I would kill to have a retro kitchen or furniture like these girls, especially an old stove! However, DH is so NOT into that. He goes REALLY retro, as in Renaissance looking retro. Our living room has his collection of swords on the way, to my mother's chagrin. But DH aims to please. When we redid our guest bathroom, he indulged me and kept the old tile on the wall. We simply had it reglazed to white with black trim and he put in a black and white tile floor. I really have to get some pics (when it's all clean and shiny to show you). I hung some vintage black and white Hollywood pics on the wall too! Below is a really cute vintage black and pink bathroom. The house I lived in until I was 6 had tile like this but much smaller:
One of my ALL TIME fave InStyle issues was when Dita Von Teese's home was featured. It's so girlie and chic. Check out the scans below:
And here are a few more of Dita herself. Her wardrobe and style is just divine.
So this ended up being a really long rambling post. Thanks for reading if you've kept up!
(Note: Each of the dresses is hyperlinked to the site where you can check it out if you like!)
How do you feel about vintage clothing? Do you like it? Or do you prefer modern clothing only?