So I have been a very bad bad blogger! Or a bad kitteh as I tell my kittehs when misbehave!
Hope everyone had a wonderful Halloween! With the rain we got here, there were hardly any kids that came for candy. Maybe 25? Lots of candy left over, which I am hoping DH puts out of my sight so it's out of my mind.
But I'm back with some finds for you!
Can I say how much I just love Etsy again? I'm amazed by the talent of the artists there and also the talent of the vintage sellers who seem to have an eye for things I just don't.
I admit it—I'm a boot whore. DH says I have enough boots for an eternity but I love finding new and different pairs. I'd rather wear boots in the winter than any other shoes---warm and stylish. I'd been obsessing over finding a great pair of grey tall boots. I already have a shorter pair but really wanted grey. Of course, every pair that I had my eye on was $400 or more. FAIL. So I checked Etsy and found these beauties: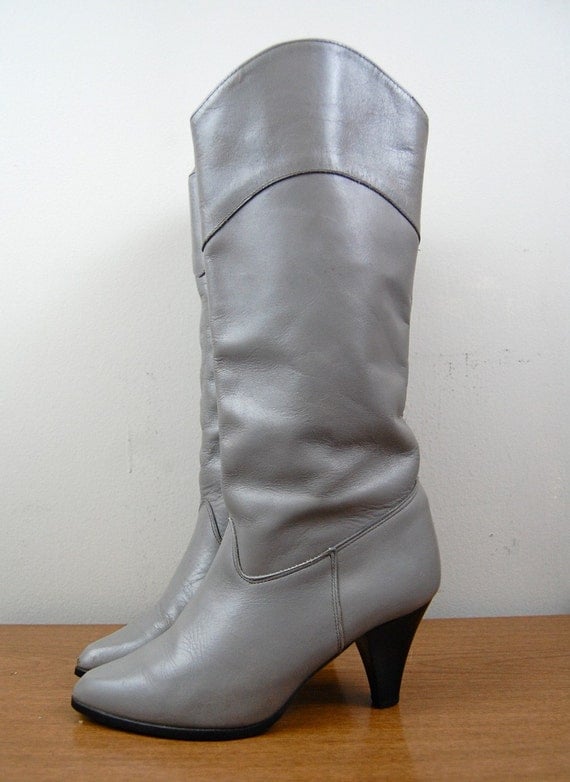 I got them from afternooncoffeespoon. They are just retro enough but also not too retro and I loved the slightly Westernized look. The price was fantastic so I snapped them up. They arrived last week and I've already worn them twice. Fit perfectly! Cannot say enough about Cris' shop and her lovingly wrapped package she sent the boots in! There are also other great items in her shop as well. (Not affiliated, just appreciate good vintage!) When I wore these to work, I received 3 compliments!
Another Etsy find was this necklace below from sariahbelle .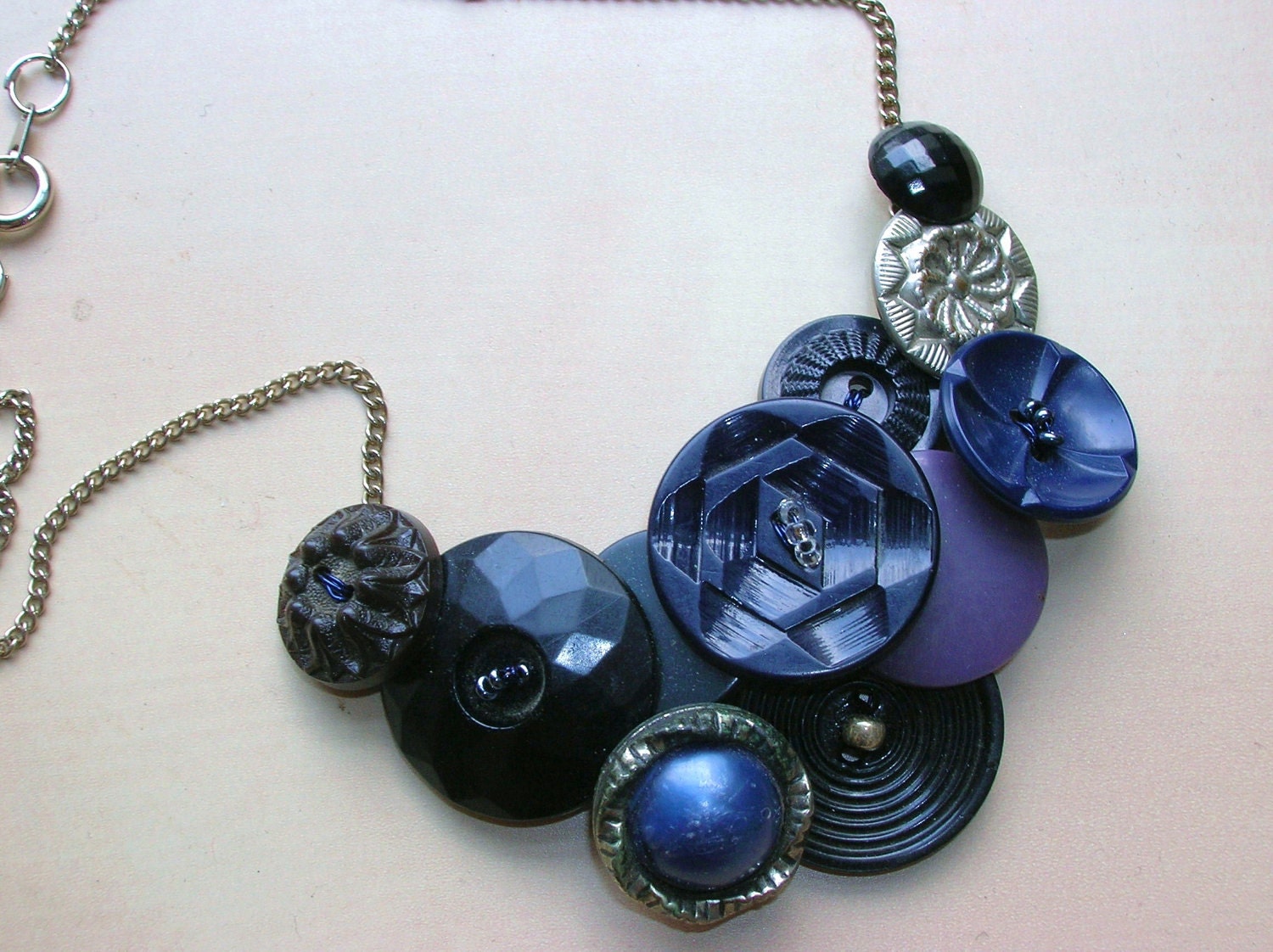 This little beauty had been on my Etsy wish list for sometime and I admit I kinda forgot about it. But I realized how much I needed a necklace with blues in it as the color blue makes up a big part of my wardrobe. Look at all the cool old buttons she used to make it. I've worn it 3 times already and it goes with so much in my closet.
I also admit to being a scent lover too. I like to layer different lotions and perfumes to get my own individual scent. When the leaves start to fall I'm on the hunt for a thicker body cream to keep my skin soft. The air seems so dry in the winter and since I shower twice a day (once in the AM before work and once after working out—I'm a sweater!) I am always putting the lotion on so I don't get the hose. LOL
Anywho---I finally placed an order with Haus of Gloi. A message board I regularly lurk on has nothing but raves for HOG. After having a somewhat unhappy experience with an e-tailer with a well known turnaround time issue, I decided it was time to try something new! And had received a trial size from a Secret Santa swap. I was hooked on the scent, Twice is Nice. I ordered up some Twice is Nice pumpkin butter to see how I liked it. The whole site is filled with intriguing and unique scents! My butter was in my mailbox in less than a week and with minimal shipping. I LOVE THIS STUFF! It's thick but not greasy, all natural (no parabens), moisturizes my skin for hours! And the scent is vanilla-y goodness with a bit of comfort thrown in. Here's a pic of the butter from their site:
After that I placed another order for the Pumpkin Eater pumpkin butter which is the PERFECT fall scent. I have layered with a few different perfumes and it all smelled heavenly. Now I'm jonesing for the Ghost Puffs pumpkin butter since I've heard how great and marshmallow-y it smells. Also eyeing Vice pumpkin butter since it looks like it has a S'mores scent. These would make great gifts for friends who love a good lotion. I know a few people on my list may be on the receiving end of a package!
Have to share a new fave recipe as well:
Starbucks Pumpkin Scone recipe. Love the time of year when Starbucks has these scones. I'm not a Starbucks person on a regular basis, but I meet up with my WW friends before our meeting to BS about life and if these are there I always make sure to get one to split with another friend (AFTER we weigh in of course!). I found this recipe and had to try it out. Here's a pic of how mine turned out below:
The only difference is that I didn't use the glaze they did. I melted cinnamon chips instead and drizzled over the scones. I would also recommend that you bake them for less than the recipe indicates. Mine were a little done on the bottom, at least to my taste. But I took them to work and they were gone instantly. Everyone said they were delish!!!
Also wanted to update on my little room project I mentioned. The room is slowly getting cleaned out. I am working on it a little teeny bit a day. Just would like to get my curtains ordered and my paint ready.
Did you have any good finds lately?